Reading Time:
3
minutes
When the subject of Good Will-Hinckley is brought up in Central Maine, people have been known to say things like, I have driven by it… such a beautiful campus; or Isn't that where the bad kids go? And on rare occasions, you might hear, Can I donate my unwanted items there? I could go on and on listing the incorrect perceptions of what GWH is, but the first one is closest to accurate.
The campus of GWH is nothing short of picturesque and, due to its location on Rt. 201 between Fairfield and Skowhegan, if you hang your hat anywhere in the central portion of our great state, there's a good chance you've driven by it a time or two. A mere drive-by, however, does very little to unlock the mystery that is GWH. Taking in the beautiful grounds and architecture on your way through offers a nice wee meditation, but there are no signs, no subtitles to offer the details of an organization that has been helping youth and families live, heal, learn and grow for the past 130+ years. That's an education in itself, so for now, let me simply offer an introduction to the present-day GWH, the programs we offer, and the relationships and partnerships that add layers and texture to the meditation.
Is That Part of Good Will-Hinckley?
Let's start by dispelling the most profound myth about today's GWH: the perception that every program on campus is, in fact, a GWH program. This wasn't always a myth. Up until 2009, every piece of real estate on the campus housed a GWH program. Our continuum of services was long, comprehensive and, sadly dismantled when we were forced to suspend programs in August of 2009; the Glenn Stratton Learning Center (GSLC) and L.C. Bates Museum being the only survivors of the campus shutdown. Eventually, the phoenix that emerged to join them is the rebuilt GWH you see pictured below: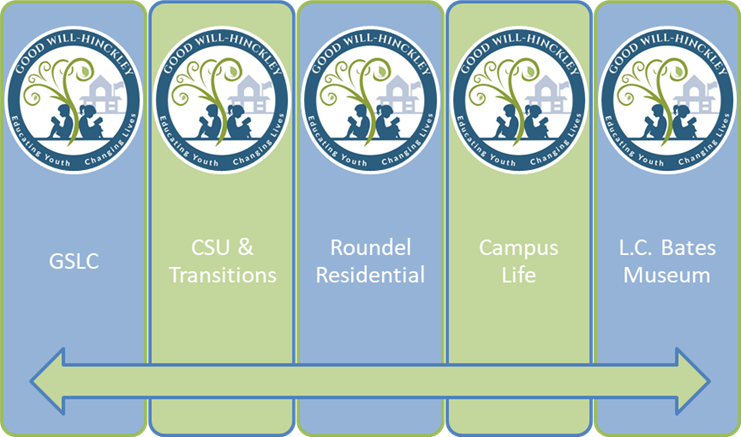 The five programs in the visual make up the new continuum of services offered by GWH. The L.C. Bates Museum and GSLC bookend three other programs developed in the post-2010 rebuilding period: Campus Life, College Step-Up & Transitions, and Roundel Residential. Keep an eye out for future posts spotlighting each of the programs on the new GWH continuum.
Beyond the Continuum
So, here's where you might want to lean forward in your seat a bit and listen just a little closer. Let's draw some dotted lines. The Maine Academy of Natural Sciences, known as MeANS, is the very first charter high school in the state, featuring project-based, hands-on learning and a focus on agriculture and sustainability. Here's where some confusion lies, so ignore your cell phones and the chatter in the background, you'll want to pay attention to this... MeANS is not, I repeat NOT a GWH program. 
The concept for the school was developed by GWH, it's parked in a GWH building, the Moody School, and the long and arduous capital campaign that raised the funds to renovate it was a GWH effort. MeANS, however, is an independent organization with its own Board of Directors. In essence, GWH gave birth to MeANS and is deeply invested in the program's success.
One final detail about MeANS and it's kind of a twist, so stay focused here. The Campus Life program (included in the picture above) is, and I repeat IS a GWH program. There are students that want to attend MeANS but they fall outside of our catchment area; meaning they do not live on one of our bus routes. These students reside with us on campus for the week and go back home on the weekends. The program is staffed and run by GWH to benefit MeANS.
Further Beyond the Continuum
Okay… I'm only going to go one more level beyond the continuum and explain another set of partnerships we have at GWH. We have organizations on our campus with missions similar to GWH that lease our buildings.  This allows us to diversify our revenue streams, help other like-minded organizations, and keep our buildings running.  Check the picture below to find our tenant organizations: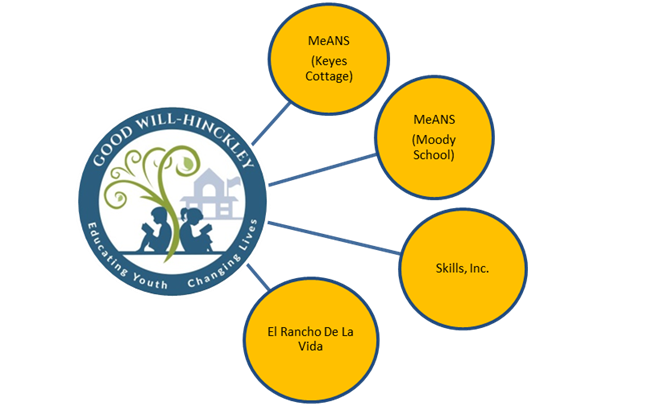 So in the future, if you drive by, or even take the opportunity to visit; you'll witness the busyness and bevy of activity. Know that, while all you see and hear may not be GWH proper, the common thread that runs through and binds us all together is a desire to help others live, heal, learn, and grow.