Reading Time:
3
minutes
It was a beautiful and sunny late summer day on Saturday, Sept. 10 as Good Will-Hinckley welcomed staff, students, alumni and members of the community to celebrate the end of the Change Drive to Change Lives program. Kids played lawn games and enjoyed horse-drawn wagon rides—and there were plenty of adults getting in on the fun, too.
Eric Lunt of Big Entertainment provided the day's soundtrack and led the event's live auction. A custom-made cornhole set was the afternoon's door prize, and the conversations, barbecue food and silent auction kept everyone in attendance smiling throughout the afternoon.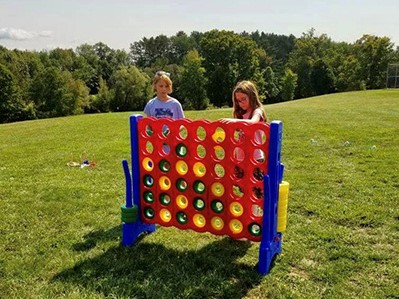 "For me, the best part of the day was watching the alumni and seeing the smiles on their faces as they caught up with old friends," said Gary Dugal, Good Will-Hinckley's president and executive director. "Good Will-Hinckley creates an incredible bond between people, and the experience really transforms fellow students into brothers and sisters."
A New Way to Raise Funds
For the last several years, Good Will-Hinckley held an annual Fall Gala that served as its major fundraiser—the event, a more formal affair, usually featured live music, food, an auction and lots of fun for everyone who attended.
But the COVID-19 pandemic forced some changes to the Gala, and this year, Good Will-Hinckley decided it would be better to return to the fun-filled family-oriented fall festivals the organization used to host on campus.
"We were looking for a way to bring the Gala outside and strip away some of its formalities," Dugal said. "Our hope for the Change Drive celebration going forward is to allow the greater community to come together and make some lasting memories."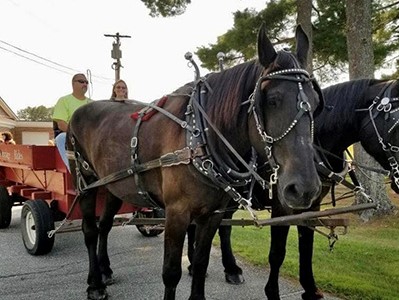 The Change Drive to Change Lives overall fundraising effort began several months ago and included people making donations directly to Good Will-Hinckley while businesses like The Framemakers, Children's Book Cellar, Hillman's Bakery, Sonny's Pizza, Galusha's Inc., RE-BOOKS, Dow's Quick Stop, and Enchanted Herbs & Teas collected money with custom piggy banks. Thanks to everyone for their support of this new fundraising campaign.
"As our amazing staff strives daily to meet our mission of helping children and families live, heal, learn, and grow, I can't think of a better example or display than watching this campaign unfold," Dugal says.
Giving Thanks
This fundraising effort would not have been possible without the help and guidance of Good Will-Hinckley staff, including Barbara Gourley, Ginny Raye, Lisa Sandy, Mike Hinckley-Gordon, Mark Tulley, Michelle Dugal, Randi Robinson, the GWH maintenance crew, our former marketing and development director Michelle Theriault, former president Rob Moody, and other board members and volunteers.
And the Change Drive to Change Lives program wouldn't have been successful without the support of its generous sponsors, including:
Sappi
Golden Pond Wealth Management
Hight Chevrolet-Buick-GMC
Skowhegan Savings Bank
Farm Credit East
Rob and Angie Moody
Central Maine Motors Auto Group
Camden National Bank
The Abramson Family
Fabian Oil Inc.
Hour Class Company
Kennebec Valley Community College
Linda Smith
Minuteman Security Technologies, Inc.
TK Elevator
Trueline
Looking Ahead
Dugal says he and other Good Will-Hinckley staffers paid close attention to everything about the event—and the way the program progressed throughout the summer—and will use those notes to make future Change Drive fundraisers even better and more productive.
"From the 'clink' of the first coin pouring out of the piggy banks to the last chair being folded up—and everything in between—I can't think of a better way to spend a beautiful late summer Saturday with family and friends," Dugal says. "We hope to build on this inaugural event and make it bigger and better with each passing year."
Support GWH
There are numerous ways to support the programs and students at Good Will-Hinckley!