Reading Time:
3
minutes
For more than 125 years, Good Will-Hinckley has worked to provide a home and helping hand to boys and girls in Maine—many of whom face significant behavioral challenges. Part of that effort has included helping our residents and students prepare for post-secondary education as part of our College Step-Up program.
Now, we've added a new component to that work—one that will help us further effectuate GWH's mission and values.
With that, we're proud to announce our new Transitions program, an expansion of College Step-Up, adding a vocation track for youth who prefer the path of building the skills necessary to become workforce ready.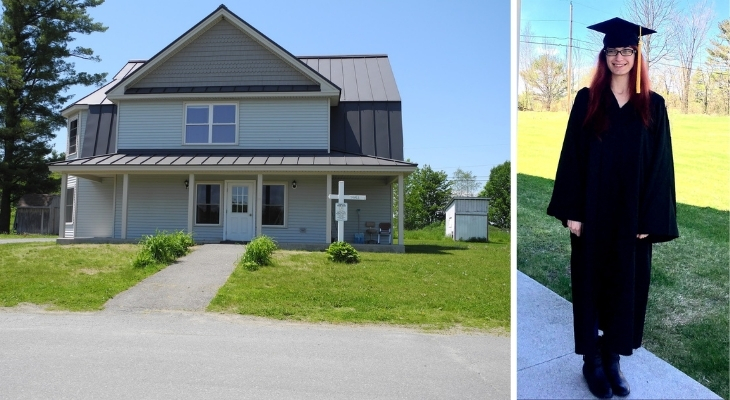 In the real world, you do not always need a college degree to be successful. You need a dream and the framework to achieve that dream. We help students develop their dreams and work with them to put that framework together to achieve them.
While providing year-round supportive housing and helping our students navigate the rigors of college life remains one of our top priorities, we feel it's important to bring an increased focus to vocational careers. We're confident this new program will add a dynamic offering to the Good Will-Hinckley experience.
Going On a Vocation
If you've heard anything from anybody working in the trades—carpenters, plumbers, electricians, and so on—you know those fields are in desperate need of new talent. I even wrote about it in a blog post last year.
Located on the GWH campus, the Maine Academy of Natural Sciences (MeANS) has been dedicated to driving interest in the trades since the school opened its doors in 2012. Our newly expanded College Step-Up & Transitions Program will allow us to pool resources and information to help GWH students with an interest in the trades as they choose their career paths.
In order to succeed in our program, participants must have a strong desire to develop the skills necessary to enter the workforce; a willingness to learn; a desire to be a part of a supportive learning community; and an interest in developing a collaborative network of adults and peers.
Our Transitions program is built on three, equally important pillars that form the Vocational Triad: job-readiness; life skills; and community engagement. We know that entering the workforce successfully requires a polished and particular set of skills. We believe it's our job to help students develop them.
But it's also important for our students to understand what it means to be employable in a highly competitive workforce; how to identify, secure and maintain gainful employment; and how to develop marketable skills that will help them not only in the here and now, but well into the future. It is our job to build the human capital necessary in each youth for them to become independent and productive community members.
A Capable Staff
None of the things I've mentioned would be possible without a dedicated and experienced staff. Luckily, that's exactly what we have here at Good Will-Hinckley.
Our College Step-Up & Transitions Program staff include an academic/career navigator that conducts comprehensive educational and workforce assessments on behalf of participants. It's the navigator's job to identify and prioritize pathways that best suit our students' needs. They also create a Future Plan and Progress Report, while helping connect participants to career centers, financial aid and housing.
The Transitions Advisor has a different role. This staffer is focused on job readiness, housing, adult daily living skills and creates a Future Plan and Progress Report, including housing stability and transitions plan, that determines the amount and types of assistance a participant needs to regain stable, permanent housing.
Both advisors act as the main source of support for the youth in their respective tracks. Whether it's choosing specific classes for an upcoming semester, collecting required materials to apply for financial aid, searching for housing in a particular region or revising a resume, your advisor will be the first and best place to start.
We are excited about the possibilities our newly expanded College Step-Up & Transitions Program will bring to Good Will-Hinckley students.
For more information, check out the College Step-Up & Transitions Program page, call 207-238-4000 or email info@GWH.org.